3000
00671867550030
copied to clipboard
Liberty Bags 3000 Non-Woven Classic Shopping Bag
Starting at
$2.36
for color Black
Features
Instead of paper or plastic choose this bag built with a sturdy base so your groceries stay upright.
Heavyweight 90 gram polypropylene
PE board for base
Recyclable
24" matching handles
Size: 12.5" x 13.5" x 8.5"
Read More
Black
(Select Color)
Close

Black

Navy

Red

Royal

Tan
Liberty Bags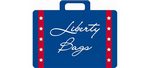 Savings
Colors :

$2.36

for Sizes :

(S-XL)
We work hard to protect your Security and Privacy
Our payment security system encrypts your information during transmission. We don't save any credit card info on our servers. We don't share or sell your details to other merchants.
Size Chart