Next Level Apparel at Wholesale Prices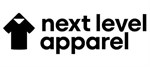 Bulk Apparel has partnered with Next Level to bring you top quality fashion apparel at the lowest price point.

Next Level apparel might not have the history of a Hanes, however that has not stopped them from making a significant name for themselves in a short period of time. Next Level creates fashionable and high quality products that you can wear with confidence and pride. With their product line ranging from tank tops, long sleeve shirts to baseball tees, they offer a very eclectic mix of items for women, men and children. All of their products are made from 100% airlume and ringspun cotton. Next Level also offers a wide selection of tri-blend shirt options which are made from a unique 50/25/25 blend of polyester, combed ringspun cotton and rayon jersey. This creates not only a very comfortable shirt but the materials blended create a visually appealing look as well.

Next Level also prides themselves on being a socially responsible company as well, on the company's mission statement they state " our factories are committed to the highest ethical standards of conduct and best quality practices. At Next Level we respect the rights of each individual and care for the environment."

With Next Level you are guaranteed to receive high quality products that are guilt free. Products ranging from baseball tees to zip ups to comfortably fashionable items for children, Next Level has you covered.
Read More
Brand - Next Level