BELLA + CANVAS WHOLESALE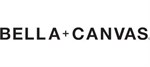 Bella + Canvas was created by two high school best friends, Danny and Marco who had one intention, to create great fitting and quality garments. The company started in 1998, previously known as "Bella" and solely focused on clothing items for women, however in 2000 the company expanded to selling men's items as well, creating a separate line "Canvas", until 2012 where the two merge, thus creating Bella + Canvas. Now, almost ten years later, they have become one of the most prominent names in wholesale apparel.

Bella + Canvas provides great quality items using Airlume Combed and Ringspun cotton, creating the extremely comfortable items we know and love today. Bella+Canvas has high quality garments for any occasion, offering tank tops, t-shirts, hooded sweatshirts, and everything in between.

A vast majority of Bella + Canvas products are available in Unisex sizing and they have even expanded to include childrens items as well, so everyone can get in on some comfort.

The company staple is the 3001 a unisex shirt available in almost 100 colors, but we also offer over 75 Bella + Canvas options at low prices for the highest quality.
Read More
Brand - Bella + Canvas