Shipping
UPS Shipping Map
Most orders are shipped the same day and delivered within 1 to 3 business days*.
We apologize for these delays. Our customers have got used to getting their packages delivered on time and this is very difficult for our customer support team to have your orders delivered late. We are closely working with UPS and USPS and looking at alternate options to deliver your orders on time.
** There are some small delays with some of our parcel carriers,
transit times and shipment dates may be subject to some delays. **

if there are any changes we will update the status here

Shipping is FREE for orders over $99. All other orders less than $99 ship for $7.99 or $9.99.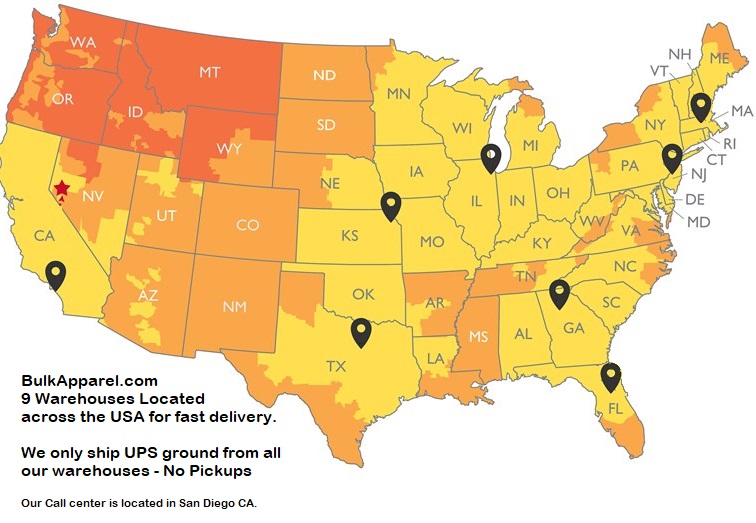 Tracking is sent out by email within 1 business day after your order is placed. You can also verify your order online in your account or on our tracking page.
Orders placed from Monday to Friday before 1:00 pm local warehouse time are usually shipped the same day. All orders placed after 1pm will ship the following business day. All orders placed on Saturday or Sunday will be processed and shipped on Monday.
Regular UPS ground orders are delivered within 1 to 3 business days but sometimes it can take up to 5 business days till delivery of your order. Once you put your zip code in the cart you will get an estimated delivery date.
Regular USPS orders (usually smaller orders under 10 pounds) are delivered within 2 to 4 business days but sometimes it can take up to 6 business days till delivery of your order.
Your order may arrive in separate shipments. The shipping and handling charge on your invoice is final. You will never pay any extra charges for separate shipments from multiple warehouses.
We now have 9 warehouses across the U.S and we will ship from the closest warehouse that has stock available for your location.
Our warehouses are located strategically across the U.S. California, Reno, Kansas, Texas, Illinois, Florida, Georgia, New Jersey, Mass.
We're sorry we presently do not ship to Alaska or Hawaii. We will add a shipping option for these states in a few months.
We ship only to locations within the U.S. and cannot currently ship to APO/FPO addresses or to Puerto Rico, Guam, or the Virgin islands. We're sorry but we do not ship outside the U.S. and We do not ship to PO Boxes
bulkapparel.com cannot be responsible for delayed orders after shipments leave our warehouse.
We don't have a customer counter at any of our locations. Our warehouses are not open to the public. No customer pickup or showroom.
Do we ship COD?
Free Returns and Exchanges for up to 30 days. No Returns will be accepted without an RA#
Returns & Refunds: Please request a RA#(return authorization) with this Returns Form within 30 Days.
Exchanges: Same as a return. Please request a RA# with this Return Form and place a new order for your new items.We cannot place the new or replacement order for you. You must do this online.
Once you submit the return form, A return authorization number will be issued from our customer service department within 2 business day. Please be patient with our return process but the good news is that it is free.
No returns will be accepted without a RA# return authorization number.
No credit will be given until merchandise is received into our warehouse.
Depending on shipping time, and credit card processing it may take up to 14 days for your refund to be issued.
Shipping fees if any are not refunded.
There is no restocking fee on your return or exchange.
Merchandise over 30 days old or discontinued merchandise may not be returned.
Absolutely no returns on printed , washed or decorated merchandise. Garments should be inspected prior to decorating.
We are not able to Cancel or Change an order after it is placed. The order is sent immediatly to the warehouse for processing. Please contact customer service to request a return.
To add an item to your order please place a new order.
No Minimum orders. BUT if you are looking to purchase one or two pieces, we might not be the right company for you. We are a wholesale company and we cater our pricing and services to the customers who make bulk purchases.
Pricing for each item is listed on the items page.
You can mix colors and sizing any way you want.
White apparel are always cheaper than the other colors.
Sizes XXL and XXXL and bigger are usually more expensive than the regular sizes.
We are a Wholesale Distributor, you are already receiving our lowest discounts offered on the products but we do offer volume discounts, please see items page for volume discount available.
If you need to place an order over $5000 you may request a quote through our contact us page.
Prices are subject to change without notice.
All our shirts are first quality, we do not sell or carry any seconds or Irregulars.
No Special or Customized orders
We are not a manufacturer. We can't make a custom shirt for you. We only carry the items you can find on our website.
In order to not compete with our customers we do not offer printing or embroidery services. We cannot recommend any printers or embroiders since a large portion of our customers are in the custom apparel business.
There are No Minimums.
Samples may be purchased at the piece price and are not returnable. There are no free samples but after you placed your sample order and make a bulk purchase of over $500 we can credit you back your sample order up to $50. Please contact customer service once you place your larger order.
This site is open to the public. You do not have to be a merchant to place an order. It is now possible for the public to buy at wholesale prices. Larger orders will get volume discounts.
You can place your order online or you may place an order by phone, from 8 am to 4 pm Pacific time by dialing toll free 1-877-629-5110 You can also use our online chat. Please do not send credit card info through chat.

Most popular form of payment Visa, Master Card, American Express and Discover. This is a secure site. On all our pages all info is passed through a secure connection. Please make sure to use the most recent browser available.
For larger orders over $5000 you can pay by prepaid wire transfer.
Purchase orders. We only accept School or Government (PO's) Purchase orders must be paid within 30 days of invoice date.
School & Government purchase orders instructions.
First put all the items you intend to purchase in our shopping cart.
After adding all the items to the cart please add your zip code in the shipping estimator. California Schools please add local sales tax.
You will not be able to complete your purchase order online.
Please take a screenshot of your cart and E-mail it with your PO to support @ bulkapparel.com
If you have any question please use our chat service or call 1-877-629-5110
BulkApparel.com knows that you care how information about you is used and shared, and we appreciate your trust that we will do so carefully and sensibly. This notice describes our privacy policy.

Does BulkApparel.com Share the Information It Receives?

Information about our customers is an important part of our business, and we are not in the business of selling it to others. We do not share or give out any customer information gathered while shopping at bulkapparel.com
If we ship in the state of California, a completed and signed valid resale permit must be on file to avoid being charged sales tax. You can email your sellers permit to support @ bulkapparel.com
Presently we do not collect sales tax in all other states but please refer to your own states policy in case you have to pay taxes to the state.
General Disclaimer
Availability of merchandise is subject to change or discontinuance without notice. All information provided by the manufacturers to bulkapparel "bulkapparel.com" is deemed reliable, but without any warranty by bulkapparel.com. bulkapparel.com has no responsibility for a manufacturer's inability to supply merchandise.
These terms and conditions apply to all purchases from bulkapparel.com and are in addition to any terms and conditions included on Purchase Orders.
bulkapparel.com reserves the right to change any of the above policies and procedures at any time without prior notice. All rights of the parties in connection with the purchase of goods from bulkapparel.com shall be governed exclusively by the laws of the State of California.