copied to clipboard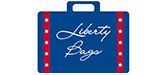 Liberty Bags 8860 6 Ounce Cotton Canvas Tote
Features
Our wholesale blank Liberty Bags 8860 6 Ounce Cotton Canvas Tote is a good option to carry your everyday essentials. It is very useful for students to carry books or for office ladies to carry groceries. It is made of 100% cotton canvas and weighs 6.0 oz. It also has 22" handles and measures 14 1/2" x 15 1/2". This eco-friendly bag can be used as a reusable shopping bag, book bag, or beach bag while also promoting your brand. This reusable bulk wholesale bag and the long-lasting totes are extremely versatile.
6.0 oz., 100% cotton canvas
22" handles
Size: 14 1/2" x 15 1/2"
Read More