ComfortWash by Hanes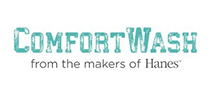 Hanes has created a high quality blank wholesale garment dyed apparel. Hanes ComfortWash is now available at Bulk Apparel. These items are modern garment dyed blank wholesale tees, hoodies, crewnecks and so much more right here at Bulk Apparel.

ComfortWash makes the best bulk blank garment dyed tees. Bulk Apparel favorite is the GDH100 which isi made with 100% American grown ringspun cotton. These shirts are high quality blank bulk t-shirts that goes with all of the ComfortWash garment dyed wholesale items. Bulk Apparel now has all of your blank Wholesale Garment Dyed hoodies, t-shirts, sweatpants and crewnecks all from ComfortWash by hanes and for the best wholesale prices!
Read more +