SECRETS OF PRINTING ON 50/50 T-SHIRTS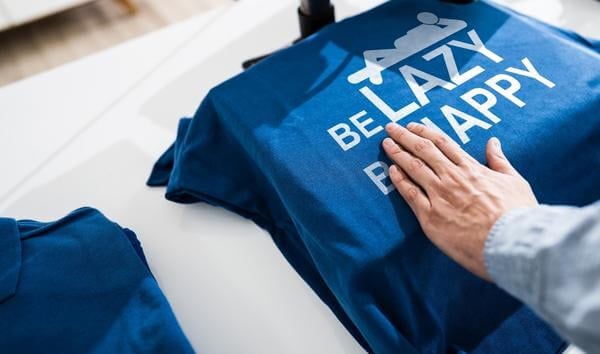 For a good many of your orders, using a 50/50 cotton/polyester blend t-shirt could solve several challenges.
It is affordable.
The cotton content helps the shirt remain soft, comfortable, and breathable – bonus if it's ring-spun cotton.
While the polyester content in the blend helps solve some shrinkage and fading problems that 100% cotton garments face.
DON'T BELIEVE WHAT YOU'VE HEARD
Many shops are hesitant to try a 50/50 blank because they have heard rumors or myths about screenprinting challenges on this type of garment.
It's not that difficult if you engineer the mechanics behind the print. This article will give you the secrets that you can quickly deploy in your shop to do it right.
IT IS ALL ABOUT THE HEAT
The challenge with printing anything with a polyester content, whether it is a 50/50 or 100% garment, is that at certain temperatures over 360 degrees, the polyester's dye can turn to gas and sublimate up into the ink.
Printing with this type of blank can be a breeze if you engineer the design and the mechanics of the process. You need to control the heat and how much of it you need to cure the ink properly.
Use either a low-cure ink or a low-cure ink additive so you can drop your dryer temperature like you would for a 100% polyester garment.
Do your shop a favor, make things easier for your crew, and have one print process for anything with polyester content.
THINNER INK DEPOSIT WORKS BETTER
We want to use a thinner ink deposit because if we don't lay down much ink, it logically becomes easier to cure as we don't need excessive heat to cure the print.
Less heat = less worry.
We want to use higher screen mesh counts with higher tension if we can, ideally, mid 20 N/cm range.
As an example, think about a trampoline. Imagine it to be loose, and it gives a lot. What happens when someone that is heavier starts jumping on the trampoline? It goes all the way to the ground.
Now imagine a trampoline that is extremely tight. It doesn't give much, even when someone heavy gets on it.
SCREENS WORK THE SAME WAY
Looser tensions mean that you need higher off-contact and more pressure to produce the print on the garment. That extra pressure often drives the ink down into the fabric weave, like when you hit a nail with a hammer. (In fact, if you can see your print on the press platen, you know that you are using too much pressure)
Even worse, this affects your opacity, which is the reason why you start double-stroking the screen and introducing more ink to the process.
This added build-up of ink causes you to naturally need to flash-cure the print longer, introducing more heat into the process.
It is a print production cycle of doom. This problem is why people shy away from using any shirts with polyester content.
INSTEAD, DO THIS
A higher mesh screen will naturally lay down less ink. With better tension, you can use less off-contact and print with a faster squeegee stroke.
If you do this right, there is no need to double-stroke any screen, especially your underbase.
That thinner, smoother stroke means that there is less ink on the garment, so your flash cure dwell times can be shorter. This step controls the heat on the garment better. Plus, the ink sits up on top of the shirt and won't be driven into the fabric.
Imagine printing with brighter whites and colors, faster, and with a softer print hand! That's what we are talking about here.
WHAT SHIRT TO USE?
Shirts like the classic fit 560MR JERZEES Premium Blend 50/50 T-shirt are a good choice for providing an excellent decoration platform for screen-printing. The average stitch density of the fabric is 1,530 per square inch, which provides an ultra-smooth surface that is great for maximum ink coverage and image detail retention. Plus, it's made with ring-spun cotton for the extra soft hand most customers are seeking these days.
It comes in 29 colors and sizes ranging from S to 4XL – so if variety is what you're looking for, this shirt has it. Plus, it has an easy to tear away tag so that you can add value to your order with a relabeling program.
It's a premium shirt at an affordable price point.
BEST PRACTICE TIPS
Here are some best practice tips for you that will help you with your 50/50 Screen-print craftsmanship:
Stir your ink before you add it to the screen. Especially white. Use a cordless drill and a paddle-bit.
Watch your heat. Use a donut probe in the dryer chamber for the best reading. Be wary of going above 360 degrees in the dryer-chamber.
Flash curing. Just gel the ink. Don't try to cure it on the press, use your dryer!
Longer runs, watch your press platen temperature. Reduce flash-cure dwell times accordingly.
Use low-cure inks or additives for your underbase white and all colors. The right ink type allows you to use less heat in the dryer.
Screen tension. The higher, the better. Shoot for a minimum of mid 20 N/cm. Use a tension meter to measure before you coat your screens.
Minimize off-contact. You can print faster - 1/16th of an inch.
A thinner ink deposit means less flashing and heat dwell time.
Higher mesh counts = a thinner ink deposit. Minimize ink film thickness. Use "S" or Hydro mesh for larger mesh openings and higher opacity if needed.
156 mesh for Underbase screens.
230 mesh for colors.
156 mesh for highlight white.
Triple durometer squeegee. 60/90/60. The 60 durometer is softer and sheers more ink through the screen. The 90 durometer is sandwiched between the other 60. This combo gives the squeegee blade some support and stiffness, with the softness needed to push more ink.
Multiple stacks on the catcher table. Don't let the shirts drop into a box or bin, or catch them and place them into one pile on the table. Use multiple stacks on the catcher table with a fan blowing on them so the garments can cool quickly. Remember, heat is your enemy with polyester content.
Engineer your print. From a design standpoint, try to engineer your print to have fewer large areas of lighter colors in the design. This type of design choice helps control the challenge from the art perspective.
MARKET GROWTH WITH 50/50 T-SHIRTS
Premium blends are a growing trend in the market. Customers love the soft fabric but also are thrilled with the durability of this type of t-shirt.
Embrace the trend.